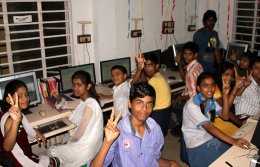 ---
SAVE-UK and SAVE-INDIA's aims and objectives are to achieve the millennium development goals by alleviating poverty and promoting social opportunity.
SAVE works as a non-political and non-religious charitable organisation to:

Improve - Education and health
Promote - Mother and child care, nutrition and sanitation
Enhance - Women's rights and women's empowerment
Develop - Skills for income generation
Raise - Awareness on environmental and social issues
Since its inception in 1994, SAVE has funded 26 small projects in 9 states of India. Presently it is working on 20 small projects spread across 7 states of India (Assam, Andhra Pradesh, Bihar, Karnataka, Maharashtra , Tamil Nadu and West Bengal), the majority of which are in eastern India and many of these are in and around Kolkata as the donations have been ring fenced by the donor .
---
---
HELP US HELP THEM
---
---
---