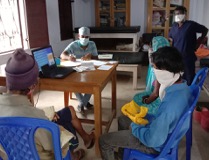 SAVE-UK helping provide mental health care during COVID times
(taken from JCMB report)
The mental health situation in our area was always poor, and with the onslaught of the COVID pandemic – with the severe lockdown and its corollary – the economic crisis, much deterioration has taken place. Around 5 suicide deaths in Jharkhand are taking place every day, which until recently was far more than the deaths due to the corona virus in our state.
"Jan Chetna Manch, Bokaro" had been providing mental health care to over a hundred patients each month. Until March 2020 a team of psychiatrists from the "Central Institute of Psychiatry" – a well known and respected government institute in Ranchi (around 150 kms away) – came each month to the health centre in Chandankiari to provide treatment.  Most of the patients are poor, and without this service they would be a huge burden to their families, and severely affected. With the donation from SAVE-UK, JCMB has been providing 60 patients with highly subsidised or free medicines.
After the lockdown was announced here in India at the end of March, this arrangement ended. Travelling from Ranchi to Bokaro was not allowed. Most outdoor clinics were closed. For 3 months no mental health clinics were held in JCMB's health centre. For the first few weeks medication for the patients was difficult. Community Health Workers were not allowed to visit the village homes of registered patients. Tragically one young lad, a 19 year old with epilepsy, died due to drowning in the village pond where he had gone for a bath and had convulsions. He had stopped taking medicines since he could not reach our centre.
Following this we ensured all registered patients were contacted either by phone or visited somehow, and by the end of April almost all were back taking the medicines that they had been taking before. Most of the patients are on long term treatment for mental health problems, such as for epilepsy. All the patients being supported by SAVE-UK have been able to continue their treatment. Had it not been for the free or highly subsidised treatment most of these patients would have not been able to continue to get medicines, especially due to the lockdown and economic crisis.
From July our mental health clinics have re-started. The team does not come from Ranchi. The doctors are reluctant to attend so many patients, besides which it would be difficult for us to handle a hundred patients in one day maintaining physical distance. Every Wednesday a telemedicine psychiatric clinic is organised, with between 15 to 20 patients being treated. All this has ensured patients are treated, medication not disrupted – and lives saved. The financial support of SAVE-UK has enabled all of this.
For a copy of the JCMB newsletter follow the link below: